This week Jennifer is asking
Blog Hop
participants to "share some of your favorite authors and why they are your favorites!" Well I don't mind if I do share!
Sherman Alexie
is a recent discovery for me. I read his young adult novel,
The Absolutely True Diary of a Part Time Indian
, last fall, loved it and have been reading and acquiring his works ever since. I've since read
War Dances
(short stories and poems),
Flight
(novel) and I'm now reading
The Lone Ranger and Tonto Fist fight in Heaven
(short stories). Alexie's works are funny, dark, honest (sometimes brutally so) and illuminating. At the top of the page he has me laughing out loud and by the bottom line he's got me crying tears. Alexie is a Spokane/Coeur d'Alene Indian who grew up in Washington state and many of his stories reflect his experiences growing up on a reservation. He's won numerous awards. I'll let you look them up on
his website
by yourself.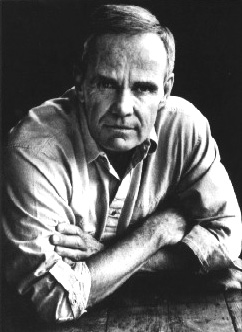 Cormac McCarthy
is also a new to me author. I read
The Road
last year and was blown away. I've since read
All the Pretty Horses
and enjoyed it immensely. McCarthy's writing style is unconventional and out of this world. I don't think I've found anything that compares. He makes me read slowly, deliberately, so as to visualize everything he's saying, every stark detail be it beautiful or frightfully ugly. With his characters he captures humanity at its best and worst. I'm looking forward to savoring more of his works in the future. Plus, I hear he doesn't like Henry James much and neither do I. Actually I can't stand reading Henry James. McCarthy is apparently very private, which only adds to his coolness factor. But for more info check out the
Cormac McCarthy's Society
's website. Oh, and he's won a Pulitzer so you know I'm not making up his coolness.
Amy Tan
got me reading before I knew I liked reading...when I thought I wasn't much of reader.That is to say, Amy Tan was a gateway book to heavy reading. Tan is Chinese American and her stories reflect her rich and often frustrating heritage. She captures mother-daughter relationships perfectly. It doesn't matter what nationality you identify with - mothers and daughters always have quarrels and misunderstandings. I love
The Joy Luck Club
and highly recommend it if you've never read anything by Tan before.
Well, this was fun. I'm looking forward to reading everybody's posts about your favorite authors. If you're stopping by from the Hop, hey, howya doin? Thanks for stopping. Leave a comment and I'll visit you this weekend. Happy Hopping!