Karin the Librarian
asks, "...if I could live in a book which one would it be? I'm going to make that decision by the men I've fallen in love with between the pages of the books." Ok, well here's my selections!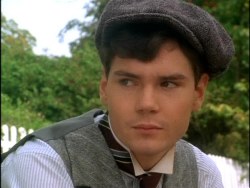 Who didn't fall for Gilbert Blythe in
Anne of Green Gables
?
And we all know Bella should have ended up with Jacob Black! Sorry, team Edwards!
If I had to endure the Hunger Games, I'd definitely want someone like Peeta Mellark in there with me. I wonder who they'll get to play Peeta in the movie?