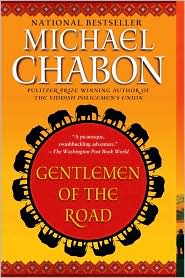 At once, Chabon's prose transports you over a thousand years into the past to a world of swordsmen and swindlers. If the text seems verbose, that's because it is and the prolific use of virtually unknown and archaic words may get you down (especially we younger folk). My advice, just go with it and stop reaching for the dictionary. By page forty, many of the terms became self-explanatory and I enjoyed the story without worrying about them. And as far as the story goes, it's great – a true adventure tale that reminds me of
The Hobbit
without the fantastic dragon. Don't get me wrong,
Gentlemen
is historical fiction and not fantasy. But two unlikely friends, on the road in search of glory and fortune, do remind me of hobbits and dwarfs in Tolkien's story. I've read Chabon's short story collection,
Werewolves in Their Youth
(which I didn't care for), but
Gentlemen
is completely different. It's got plenty of humor, fight scenes, elephants and a twist I didn't see coming. Chabon's style is elegant and his recreation of a lost era masterful.
Rating: 3 stars Pages: with afterword, 204
Publisher: Del Rey Books Trade Paperback Edition, copyright 2007
Source: Barnes and Noble More on this author at: http://www.southwestern.edu/library/writers-voice/chabon.html