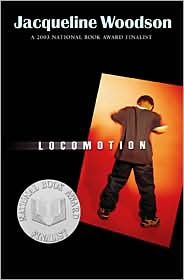 After Lonnie's parents died he and his sister live in separate foster homes. Lonnie uses writing assignments in school to cope. The result is a short novel in verse -- a book of poems that tells a story. Lonnie deals with some heavy stuff for an eleven year old. Grief, loss, separation, loneliness and uncertainty are a few of the themes. But Lonnie also talks of hope and his affection for his sister.
The poems are short, ranging from three lines to a little over a page. From free verse to Haiku there is a variety of poetry Lonnie experiments with to express what he sees, feels and remembers.
Locomotion
would make great teaching material to use as examples of poetry. The book may also appeal to elementary kids who are ready to move beyond strictly rhyming and silly poems (not that there anything wrong with silly rhyming poems!).
From my perspective,
Locomotion
was a little sad and ended abruptly. There is a follow up novel called
Peace Locomotion
in which Lonnie writes letters to his sister. For such a short book it took me a long time to read. The text was often introspective. I don't think I was in the mood for it. Yet, I would recommend this text to kids interested in poetry or for someone looking for a book about grieving. This text counts towards to the
POC Reading Challenge
!
Publisher: Speak, 2003 Pages: 100
Rating: 3 Stars Source: Public Library