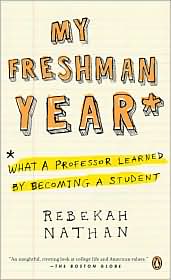 As someone who's had a wide range of experiences with different educational institutions (see my about me page), I find this memoir/study to be perceptive and reflective of my undergraduate experience. My non-traditional background left me feeling like an "outsider" to mainstream American college culture and I could identify with several of Nathan's findings of how "outsiders" are perceived and treated. Many of Nathan's perceptions are, incidentally, not flattering. And I think this is why I've read so many upset and negative reviews by college students for this book (which I find unwarranted).
But before I get carried away, here's an abbreviated
summary
from
Shelfari
:
"After fifteen years of teaching anthropology at a large university, Rebekah Nathan had become baffled by her own students. Their strange behavior—eating meals at their desks, not completing reading assignments, remaining silent through class discussions—made her feel as if she were dealing with a completely foreign culture. So Nathan decided to do what anthropologists do when confused by a different culture: Go live with them. She enrolled as a freshman, moved into the dorm, ate in the dining hall, and took a full load of courses".
First of all, Nathan does not submit this book as "proof" or as a sound study. She recognizes upfront the limitations of her investigations and realizes that in the end, her freshman year was a personal experience that may or may not be indicative of college life across the board. This point is reiterated several times. However, this does not mean Nathan doesn't make good observations. She shares the view of an outsider looking in. So, if your college prof. assigned this book and you don't think its "academic" enough, that's not Nathan's fault. It's your prof.'s for assigning it. Something to keep in mind.
So, why should you read this book and who should read it? Anyone interested in educational institutions like college-bound high schoolers, professors (especially those who find themselves dismayed with their students), students, and those interested in cultural studies should read this book because it holds a mirror up to our faces. And sometimes that's what we need.
This isn't investigative journalism. Nathan isn't out to get "the scoop," nasty secrets or expose outlandish behaviors. We're all aware of the antics that go on around campus. Rather,
it's a sincere investigation to understand the berth between college students and their professors.
It attempts to find out why students act the way they do, how they manage academic demands with cultural and social demands. Nathan has attempted to get inside the freshman mindset. She was often surprised to find herself engaging in behaviors she saw her own students do and wondered why they did. Her freshman experience gave her an appreciation for her students and informed her teaching strategies when she returned to professorhood.
I don't know how much longer this book will be relevant before it turns into historical data. But for now, it's still an engaging and worthwhile read.
Publisher: Penguin, 2005 Source: Purchased at a used bookstore
Rating: 4 Stars